EnGenius ECB600

High-Powered, Long-Range Dual Band Wireless N600 Indoor Access Point / Client Bridge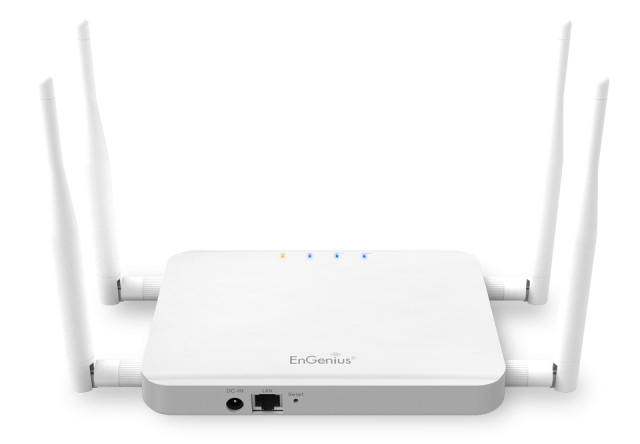 EnGenius Indoor Access Points / Bridges
EnGenius ECB600
EnGenius ECB600 High-Powered, Long-Range Dual Band Wireless N600 Indoor Access Point / Client Bridge
With Four (4) External 5 dBi Omni-Directional Antennas, 1 x RJ-45 Gigabit Ethernet (10/100/1000 Mbps)
#ECB600
Our Price: $199.95
More pricing below, click here!
Overview:
The EnGenius ECB600 is a concurrent dual band 2.4 / 5 GHz Wireless-N Indoor Access Point that features high transmit RF power (29 dBm on 2.4GHz and 26 dBm on 5GHz) for long range connectivity. With wireless speeds up to 300Mbps on each radio and a Gigabit port for connecting to a switch or router it's ideal for expanding a network with additional bandwidth to support additional users.
The dual band Wireless-N ECB600 now enables companies to connect to more employees, guests, staff or students more especially those who transfer large files within the network or use other bandwidth intensive applications like streaming HD video. The AP's Gigabit Ethernet (10/100/1000) port also offers greater bandwidth capacity and faster data transfers through the network. This high-powered Access Point/Bridge with its enhanced receive sensitivity and external MIMO (Multiple In/ Multiple Out) antennas array extends wireless coverage and enhances connectivity to client devices even in areas where connections have been previously challenging or non-existent and in some buildings it's wireless signal can penetrate up to 3 floors. This makes the ECB600 ideal for extending networks within large or multi-story buildings or expansive, client-intensive properties like hotels, resorts, hospitals, office buildings, universities or other multi-building campus facilities.
The ECB600 can be configured to operate in several modes – as a dual band Wireless-N Access Point, a WDS Access Point, or Repeater. It operates concurrently in the 2.4GHz and 5GHz frequency spectrums supporting 802.11a/b/g/n standards. ECB600 also includes EZ Controller, access point monitoring and management software that provides a robust suite of tools for IT managers, installers and network administrators to monitor the performance of their deployed EnGenius access points and bridges, update them with new firmware or reconfigure the operation mode that they are in from one central location.
Key Features:
Up to 29dBm transmit power enabling long range connectivity
Supports IEEE802.11a/b/g/n wireless standards with up to 300 Mbps data rate
Four detachable 5 dBi omni-directional MIMO antennas
Can be monitored after deployment with EnGenius EZ Controller™ software for Windows
PoE
Dual Band/Two Stream
Leader in Price/Performance
Band Steering
Specifications: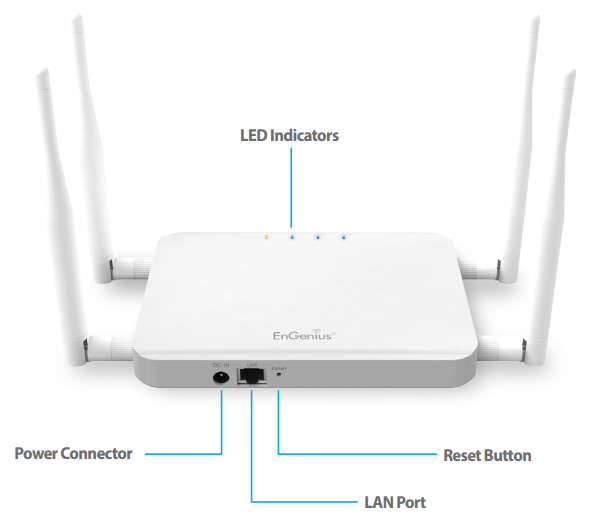 EnGenius ECB600 Specifications
Standards
IEEE802.11b/g/n on 2.4 GHz
IEEE 802.11a/n on 5 GHz
IEEE802.3at/af
Memory Capacity
Memory: 64 MB
Flash Memory 16 MB
Antenna
4 External Detachable Omni-Directional Antennas
5 dBi on 2.4 GHz and 5 GHz
Compliant with SMA type of connector
Physical Interface
1 x 10/100/1000 Gigabit Ethernet Port
1 x Reset Button
1 x Power Connector
LED Indicator
1 x Power
WLAN (Wireless Connection)
2.4 GHz
5 GHz
1 x LAN
Power Source
DC IN, 12V/2A
IEEE 802.3at/af Compliant Source
Mounting
Wall Mount
Wireless & Radio Specifications
Operating Frequency
Dual-Radio Concurrent 2.4GHz & 5GHz
Operation Modes
Access Point
Client Bridge
WDS AP
WDS Bridge
WDS Station
Universal Repeater
Frequency Radio
2.4GHz: 2400MHz ~ 2835MHz
5GHz: 5180MHz ~ 5240MHz, 5260 ~ 5320MHz, 5500MHz ~ 5700MHz, 5745MHz ~ 5825MHz
Transmit Power
Up to 28 dBm on 2.4 GHz
Up to 28 dBm on 5 GHz
Max transmit power is limited by regulatory power
Radio Chains/Spatial Streams
2x2:2
Supported Data Rates (Mbps)
2.4 GHz: Max 300
5 GHz: Max 300
802.11b: 1, 2, 5.5, 11
802.11a/g: 6, 9, 12, 18, 24, 36, 48, 54
802.11n: 6.5 to 300 (MCS0 to MCS23)
Supported Radio Technology
802.11b: Direct-Sequence Spread-Spectrum (DSSS)
802.11a/g/n: Orthogonal Frequency-Division Multiplexing (OFDM)
Channelization
802.11n with 20/40 MHZ channel width
802.11a/b/g with 20 MHZ channel width
Supported Modulation
802.11b: BPSK, QPSK, CCK
802.a/g/n: BPSK, QPSK, 16-QAM, 64-QAM
Management
Multiple BSSID
Supports up to 16 SSIDs, 8 SSIDs per radio
VLAN Tagging
Supports 802.1q SSID-to-VLAN Tagging
VLAN Pass-through
QoS
Compliant with IEEE 802.11e Standard
WMM
SNMP
v1, v2c, v3
MIB
I/II, Private MIB
Management Features
Deployment Options
Standalone (Individually Managed)
Configuration
Web Interface (HTTP)
CLI (Telnet)
Control Features
Auto Reboot
Firmware Upgrade
Email Alert
Auto Channel
Auto Transmit Power
Band Steering
Backup / Restore
Wi-Fi Scheduler
Multicast Supported
Security
WPA/WPA2 Enterprise
Hide SSID in beacons
MAC Address Filtering
Https Support
Environmental & Physical
Temperature Range
Operating: 32 to 122°F / 0 to 50°C
Storage: -4 to 140°F / -20 to 60°C
Humidity (non-condensing)
Operating: 90% or less
Storage: 90% or less
Device Dimensions & Weights
Device
ECB600 Dual Band Wireless N600 Indoor Access Point / Client Bridge
12 V/2A Power Adapter
2 Detachable 5 dBi 2.4 GHz Omni-directional Antennas
2 Detachable 5 dBi 5 GHz Omni-directional Antennas
Wall Mount Screw Kit
RJ-45 Ethernet Cable
Quick Installation Guide
Package Contents
Weight: 1.06 lbs.
Length: 7.44"
Width: 5.5"
Height: 1"
Certifications
FCC
CE
Warranty
1 Year
Product Comparison:
Model
ECB1750
ECB1200
ECB600
ECB350
ECB300
Frequency
802.11 a/b/g/n/ac
802.11 a/b/g/n/ac
802.11 a/b/g/n
802.11 b/g/n
802.11 b/g/n
Maximum Data Speed
450 + 1300Mbps
300 + 867Mbps
300 + 300Mbps
300Mbps
300Mbps
LAN Interface
10/100/1000
10/100/1000
10/100/1000
10/100/1000
10/100
Encryption
WPA2 WPA WEP
WPA2 WPA WEP
WPA2 WPA WEP
WPA2 WPA WEP
WPA2 WPA WEP
SDRAM
128 MB
128 MB
64 MB
32 MB
32 MB
FlashMemory
16 MB
16 MB
16 MB
8 MB
4 MB
RF Power (dBm)
2.4 GHz: 29 dBm
5 GHz: 29 dBm
2.4 GHz: 26 dBm
5 GHz: 26 dBm
2.4 GHz: 29 dBm
5 GHz: 26 dBm
29 dBm

29 dBm
Receive Sensitivity
≤-94 dBm
≤-94 dBm
≤-94 dBm
≤-94 dBm
≤-94 dBm
Antenna
6 x 5 dBi Omni RP-SMA Female
4 x 5 dBi Omni RP-SMA Female
4 x 5 dBi Omni RP-SMA Female
2 x 5 dBi Omni RP-SMA Female
2 x 5 dBi Omni RP-SMA Female
Transmit Power (mW)
800mW/800 mW
400mW/400mW
800mW/400mW
800mW
800mW
Operation Modes
Access Point, Client Bridge, WDS AP, WDS Station, Universal Repeater
Access Point, Client Bridge, AP Router, WDS AP, Universal Repeater
Number of SSID
16 (8 per radio)
16 (8 per radio)
16 (8 per radio)
8
8
802.1q zVLAN
QoS
AP Management Software (EZC)
PoE
802.3at
802.3at
802.3at/af
802.3af
802.3af
User Support
Up to 50 on each radio
Up to 50 on each radio
Up to 50 on each radio
Up to 32
Up to 32
Views:
Pricing Notes:
Pricing and product availability subject to change without notice.
EnGenius Indoor Access Points / Bridges
EnGenius ECB600
EnGenius ECB600 High-Powered, Long-Range Dual Band Wireless N600 Indoor Access Point / Client Bridge
With Four (4) External 5 dBi Omni-Directional Antennas, 1 x RJ-45 Gigabit Ethernet (10/100/1000 Mbps)
#ECB600
Our Price: $199.95