EnGenius ESR350

2.4 GHz Wireless N300 IoT Gigabit Cloud Router with USB Port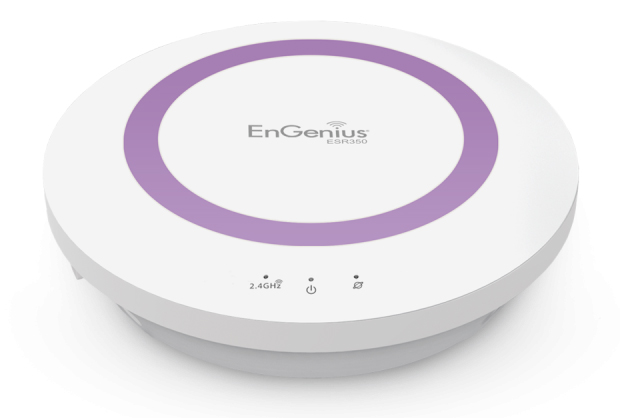 EnGenius Gateways / Routers
EnGenius ESR350
Xtra Range Wireless N300 Pod Router
with Gigabit Ports, up to 300Mbps, 802.11 b/g/n, 10/100/1000 switch, USB port
#ESR350
Our Price: $59.00
More pricing below, click here!
Overview:
The EnGenius ESR350 is a 2.4 GHz Wireless N300 Router with a built-in 4-Port Gigabit switch and a Gigabit WAN port. This high-powered Xtra Range N300 router is full-featured media sharing platform offering robust streaming performance for computers, smartphones, tablet PCs and home entertainment devices.
Robust and Reliable Wireless Performance
The ESR350 Wireless N300 Home Pod is an Xtra Range 2.4 GHz, 4-Port Wireless-N Router with wireless speeds up to 300 Mbps. This cost-effective router offers robust wired and wireless connectivity and performance for computers, smartphones, tablet PCs and home entertainment devices in a home.
Gigabit Wired Speed & Shared USB Media
Includes a built-in 4-Port Gigabit Switch and Gigabit WAN port for 10x faster throughput than Fast Ethernet making large file transfers, video and other media streaming incredibly fast. USB port to attach storage so connected devices in your home can access and stream video, music, and other media.
Industry-Standard Wireless Security
The ESR350 supports several security features and settings including industry-standard WPA/WPA2 wireless encryption to prevent unauthorized access to the network; a SPI (Stateful Packet Inspection) rewall to block malicious software from the Internet from accessing networked devices; MAC Address ltering to grant only known computers and devices network access; and URL filtering to block access to unwanted or offensive websites
USB Media Anywhere with EnShare
Attach a storage device to the router's USB port and with EnShare you can start sharing media content like photos, music, or videos throughout the home or even access and download that content when you're away from home to your mobile devices like smartphones or tablet and laptop PCs. EnShare also enables you to upload les to your attached storage device anywhere you can get an Internet connection
Features:
Wireless N300 Speed
Utilizes 802.11n standard speeds, up to 300 Mbps in the 2.4 GHz frequency band, ideal for media streaming, online gaming, and large file transfers in and around the home.
Gigabit Wired Speeds and EnShare USB Media Sharing
Includes a 4-Port Gigabit Switch and Gigabit WAN port for 10x faster throughput than Fast Ethernet making large file transfers and video streaming incredibly fast. EnShare™ lets you access media content from a storage device attached to the USB port of the ESR350 in the home or even when you're away from home. EnShare™ — Your Personal Cloud.
More Guest Access Options
Up to four separate and discrete SSIDs can be set to enable friends or visitors to access the Internet while protecting other networked computers or hard drives in the home that may contain private information.
Prioritizes Applications and Maintains Quality of Experience
QoS (Quality of Service) prioritizes bandwidth intensive applications like HD video and gaming or bandwidth sensitive applications like VoIP telephone calls.
Industry-Standard Security
WPA and WPA2 wireless encryption, SPI (Stateful Packet Inspection) firewall, Denial of Service blocking and MAC and URL filtering to make your home network safer from intruders or from malicious software attacks from the Internet.
Specifications: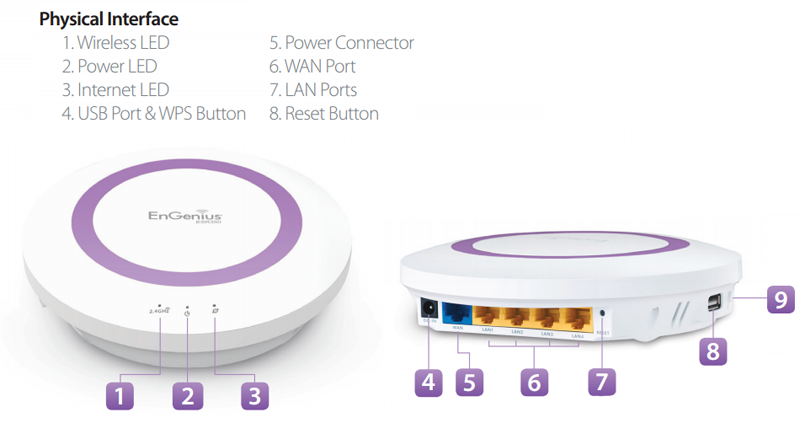 EnGenius ESR350 Specifications
Standard
Device Interface
Gigabit Ethernet WAN Port
4 Gigabit Ethernet LAN Ports
USB2.0 Port
Push Button for WPS
Reset Button
IEEE Standards
802.11b/g/n
Up to 300 Mbps wireless speed in the 2.4 GHz frequency band
802.3i/u/ab
LED Indicator
Power
WLAN (Wireless Connection)
Internet
Package Contents
ESR350 Router
Power Adapter (12V 1A)
Quick Start Guide
RJ45 Ethernet Cable
Power Specification
External Power Adapter
DC In, 12V 1A
Software Features
Frequency Bands
2.400~2.484 GHz (11b/11g/11n)
Operation Mode
AP Router/WDS
Wireless Features
Auto Channel Selection
Output Power Control
WMM (Wireless Multimedia)
MSSID (Multiple SSID)
Security
WEP/WPA-PSK/WPA2-PSK
TKIP/AES
Hidden SSID
MAC Address Filtering
802.1X Authentication
DDoS
DHCP Server/Client
SPI (Static Packet Inspection)
NAT
Port Forwarding
DMZ
Port Mapping/Triggering
VPN with PPTP, L2TP, IPSec, L2TP over IPSec
VPN Tunnels: 5
QoS
IP Filtering
Port Filtering
DDNS
IPv6 Pass-through
MAC Clone
Traffic Monitor
WAN Type: PPPoE/DHCP/Static IP
USB Features: SAMBA
Physical/Environmental Conditions
Temperature Range
Operating: 32˚F to104˚F, 0˚C to 40˚C
Storage: -4˚F to 140˚F, -20˚C to 60˚C
Humidity (non-condensing)
Operating: 90% or less (Non-Condensing)
Storage: 95% or less (Non-condensing)
Dimensions & Weights
Weights & Measures
Weight: 0.5 lbs.
Diameter: 6.36"
Height: 1.64"
Certifications
FCC
CE
IC
Warranty
1 Year
Comparison:
Wireless N Pod Routers
ESR300
ESR350
ESR600
Wireless Speeds
N300
N300
N600 (300+300)
Frequency Bands
Single Band
2.4 GHz
Single Band
2.4 GHz
Dual Band
2.4 GHz and 5 GHz
IEEE Standard
b/g/n
b/g/n
a/b/g/n
Ethernet Ports
4 x Fast Ethernet
4 x Gigabit
4 x Gigabit
MSSID
4
4
8
Power Output
High
High
High
QoS
Basic
Basic
Events
Wireless Security (WPA/WPA2)
Xtra Range™ Technology
IPv6
Parental Control
VPN Lite
Wi-Fi Protected Setup
USB Port for Media Sharing with Computers and Mobile Devices
Ideal for Large Files and Fast Web Surfing
Ideal for Gaming
Ideal for HD Video
Optimized for Simultaneous Media and Device Usage
Pricing Notes:
Pricing and product availability subject to change without notice.
EnGenius Gateways / Routers
EnGenius ESR350
Xtra Range Wireless N300 Pod Router
with Gigabit Ports, up to 300Mbps, 802.11 b/g/n, 10/100/1000 switch, USB port
#ESR350
Our Price: $59.00