EnGenius EnStationAC

Outdoor Long-Range 11ac Access Point/Wireless Bridge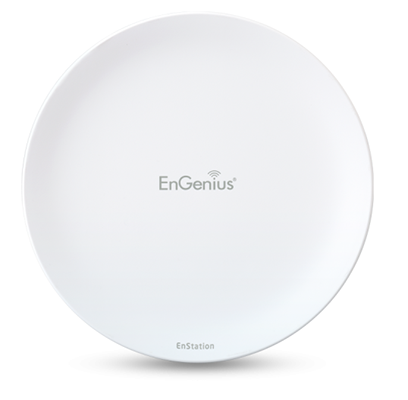 EnGenius Outdoor Access Points / Bridges
EnGenius EnStationAC
EnGenius EnStationAC 802.11 ac 866 Mbps Outdoor High Power 400mW Access point/Bridge
Pole Mount Strap Included
#ENSTATIONAC
Our Price: $199.00
More pricing below, click here!
Overview:
EnStationAC is a 5 GHz high-powered long-distance 11AC wireless outdoor AP/client bridge offering dual-PoE Gigabit ports and a high-gain directional antenna that emits a narrow signal beam, limiting interference and ensuring stable connectivity, high-bandwidth and 867 Mbps speeds over long distances.
Highlights
Powerful 19 dBi High-Gain Antennas Extend Networks to 5 Miles Point-to-Point
Optimal Bandwidth Supports Heavy Video Delivery Over Long Distances
(2) Gigabit PoE-Compliant Ports Offer Flexible Power Options for an IP Camera or AP
360-Degree, 3-Axis Pivoting Arm Locks for Precision Alignment
Optimal Bandwidth, Wider Channel Range for Fast File Transfers & Smooth HD Video Streaming
EnStationAC is engineered with a powerful independent RF interface that allows it to accommodate 4k Ultra High Defi nition (UHD) video and heavy multi-application traffi c services, extending bandwidth over a wider channel range (20MHz, 40MHz and/or 80MHz), allowing network managers to fi ne tune channel usage based on their application needs.
Connect and Power A Second Network Device for Greater Deployment Flexibility
Off ering greater fl exibility in deployment, the EnStationAC features two Power-over-Ethernet (PoE) 802.3at-compliant Gigabit ports. Connect and power a second device such as a remote IP surveillance camera or Access Point and power both via the included passive 54v Gigabit PoE Adapter up to 328 feet.
These enhanced power options allow the AP/CB and a secondary device to be deployed where power outlets are scarce or unavailable, such as under the eaves of roofs, high atop light poles or in other remote locations.
Features:
Going the Distance
All EnStation models feature 26 dBm output power and high receive sensitivity, coupled with embedded high-gain directional antennas that emit a narrow signal beam to deliver stable robust connectivity, optimal bandwidth and high speed data rates over extremely long distances — up to 5 miles in clear line-of-sight point-to-point deployments. EnStation extends the wireless network across large campus environments, over vast acreage in parks and recreational facilities, industrial, farming and ranching properties; in sizable indoor structures like arenas, shopping malls, warehouses and convention centers and in other challenging settings.
Flexibility in Deployment
Confi gure EnStation to accommodate specifi c operation modes including Access Point, Client Bridge and WDS Bridge for Point-to-Point or Pointto-Multipoint deployments.
Point-to-Point & Point-to-Multipoint Deployments
Extended connectivity distances can be achieved when two EnStation units, of the same frequency band, are paired together in a Point-to-Point (PtP) or grouped with multiple units in a Point-to-Multipoint deployment. Aligning their respective dish-shaped antennas to directly face each other ensures each gets the full impact of the focused narrow wireless single beam, further reducing frequency interference over long-ranges.

Wireless Surveillance Scenario
Connect an EnGenius IP Surveillance Camera to EnStation's secondary Gigabit (EnStationAC) or Fast (EnStation5/2) Ethernet port and utilize its long-range connectivity to send surveillance video back through the wireless network for extended surveillance coverage. Tethering a series of EnGenius IP Cameras to the EnStation gives you "eyes on" places you might not otherwise see – no matter how far away, with signifi cantly better results than traditional non-tethered wireless surveillance setups.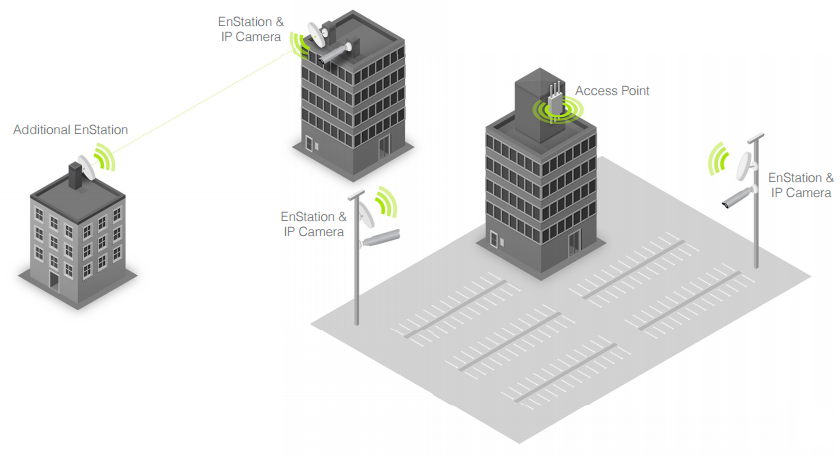 Install Virtually Anywhere
With enhanced power options, EnStation supports Power-over-Ethernet extending power up to 328 feet (100 m) away from a power outlet to EnStation's mounting location, such as high atop rooftops, poles, rafters or other remote locations via its PoE Adapter or a compatible PoE Switch. All EnStation units include a PoE-compatible Power-over-Ethernet (PoE) adapter. EnStationAC is able to power PoE-compliant devices such as an IP Camera or Access Point directly via its secondary Gigabit PoE pass through port.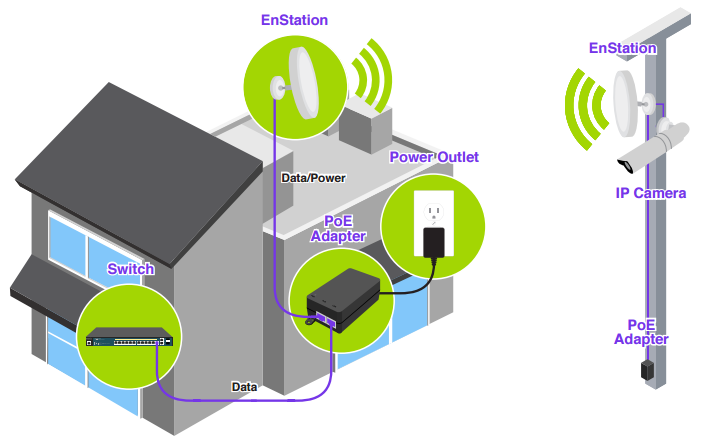 Extreme Distances Even in Extreme Weather
EnStation is designed to perform, even in harsh environments. Its IP55-rated waterproof and dustproof casing ensures it can withstand harsh outdoor climates and indoor industrial environments. This includes prolonged exposure outdoors to sunlight, extreme cold, frost, snow, rain, hail, heat and humidity, and indoors where temperature may be a factor.
Position for Maximum Connectivity
A 360-degree, 3-axis pivoting arm locks in place for precise alignment with a matching EnStation unit in point-to-point scenarios. EnStation is easily mounted to a variety of surfaces or poles with the included mounting kits.
Control, Monitor & Configure
With EnGenius' EZ Controller Software, EnStation units that are deployed on rooftops or in other difficult to access locations can be reconfigured to different operational modes and upgraded remotely without manually connecting to them onsite.
Specifications: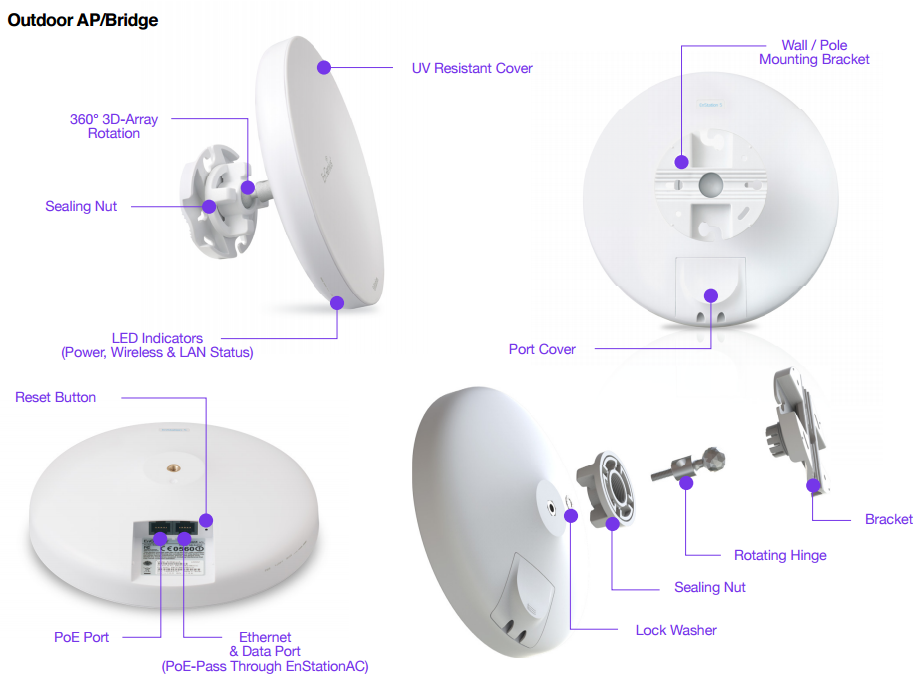 EnGenius EnStationAC Specifications
Standards
IEEE 802.11a/n on 5 GHz
Memory Capacity
Memory: 256 MB
Flash Memory 16 MB
Antenna
Internal Directional Antennas
19 dBi on 5 GHz
Physical Interface
2 x 10/100/1000 Gigabit Ethernet Ports
- LAN1: Supports 802.3at PoE Input
- LAN2: Data & 802.3af PoE Pass-Through
1 x Reset Button
LED Indicators
1 x Power
WLAN (Wireless Connection)
5 GHz
2 x LAN
Power Source
PoE injector (EPA2406GP)
100V~240V AC, 50-60Hz
0.4A @ 120V AC
Surge Protection: 1KV
ESD Protection
Contact: 4KV
Air: 8 KV
Ingress Protection Marking
IP55-Rated Enclosure
Mounting
Wall Mount
Pole Mount
Wireless & Radio Specifications
Operating Frequency
5GHz
Operation Modes
Access Point
Client Bridge
Client Router
WDS: AP, Bridge
Frequency Radio
5GHz: 5150MHz ~ 5240MHz, 5260 ~ 5320MHz, 5500MHz ~ 5700MHz, 5745MHz ~ 5925MHz
Transmit Power
Up to 26 dBm on 5 GHz
Max transmit power is limited by regulatory power
Radio Chains/Spatial Streams
2x2:2
Supported Data Rates (Mbps)
5 GHz: Max 867
802.11a: 6, 9, 12, 18, 24, 36, 48, 54
802.11n: 6.5 to 300 (MCS0 to MCS15)
802.11ac: 6.5 to 867 (MCS0 to MCS9, NSS=1 ~2)
Supported Radio Technology
802.11a/n/ac: Orthogonal frequency-division Multiplexing (OFDM)
Channelization
802.11n with 20/40 MHz channel width
802.11a with 20 MHz channel width
802.11ac with 20/40/80 MHz channel width
Supported Modulation
802.11a/n: BPSK, QPSK, 16-QAM, 64-QAM
802.11ac: BPSK, QPSK, 16-QAM, 64-QAM, 256-QAM
AP Radio Settings
AP Client Limiting
VLANs for AP - Multiple SSIDs
Wi-Fi Scheduler
Traffic Shaping
Client Traffic Status
RADIUS Accounting
Distance Control (Ack Timeout)
Multicast Supported
RSSI Threshold
Email Alert
Management
Multiple BSSID
Supports up to 4 SSIDs
VLAN Tagging
Supports 802.1q SSID-to-VLAN tagging
VLAN Pass through
QoS
Compliant with IEEE 802.11e Standard
WMM
SNMP
v1, v2c, v3
MIB
I/II, Private MIB
Deployment Options
Standalone (Individually Managed)
Configuration
Web Interface (HTTP)
CLI (Telnet)
Control Features
Auto Reboot
Firmware Upgrade
Security
WPA/WPA2 Enterprise
Hide SSID in beacons
MAC Address Filtering
Https Support
Environmental & Physical
Temperature Range
Operating: -4°F to 140°F, -20°C to 60°C
Storage: -22°F to 176°F, -30°C to 80 °C
Humidity (non-condensing)
Operating: 90% or less
Storage: 90% or less
Device Dimensions & Weights
Device
Weight: 1.11 lbs. (460 g)
Depth: 7.48" (190 mm)
Height: 1.50" (38 mm)
Package Contents
EnStationAC Outdoor AP
PoE Injector (EPA2406GP)
Pole Mount Bracket
Mounting Screw Set
Quick Installation Guide
Certifications
FCC
CE
Warranty
1 Year
EnGenius EnStation Compare:
Models
EnStationAC
EnStation5
EnStation2
Standards
802.11a/n/ac
802.11a/n
802.11b/g/n
Frequency
5 GHz
5 GHz
2.4 GHz
Max. Data Rate
Up to 867 Mbps
Up to 300 Mbps
Up to 300 Mbps
Radio Chains/Streams
2 x 2:2
2 x 2:2
2 x 2:2
RF Output Power
26 dBm
26 dBm
26 dBm
Primary Ethernet Port
1 x Gigabit Port (PoE Input)
1 x Fast Ethernet Port
1 x Fast Ethernet Port
Secondary Gigabit Port
1 x Gigabit Port (PoE Output)
1 x Fast Ethernet Port
1 x Fast Ethernet Port
Power-over-Ethernet
802.3at (in)/802.3af (out)
Proprietary
Proprietary
Power Consumption (Peak)
23.4W
7W
7.2W
Integrated Antenna
19 dBi
19 dBi
13 dBi
Ingress Protection Rating
55
55
55
Internal Antenna
EnStationAC
EnStation5
EnStation2
Antenna
5 GHz (P1)
5 GHz (P1)
5 GHz (P1)
5 GHz (P2)
2.4 GHz (P1)
2.4 GHz (P2)
Antenna Gain
19 dBi
19 dBi
19 dBi
19 dBi
13 dBi
13 dBi
Polarization
Linear
Linear
Linear
Linear
Linear
Linear
Azimuth Beam-Width
30°
18°
30°
18°
67°
67°
Elevation Beam-Width
18°
30°
18°
30°
33°
35°
VSWR
1 :2.0
1 :2.0
1 :2.0
1 :2.0
1 :2.0
1 :2.0
Dimension
7.38"x7.38"x1.50"
7.38"x7.38"x1.50"
7.38"x7.38"x1.50"
Views:
Pricing Notes:
Pricing and product availability subject to change without notice.
EnGenius Outdoor Access Points / Bridges
EnGenius EnStationAC
EnGenius EnStationAC 802.11 ac 866 Mbps Outdoor High Power 400mW Access point/Bridge
Pole Mount Strap Included
#ENSTATIONC
Our Price: $199.00