EnGenius EAP350

High-Powered, Long-Range Ceiling Mount, Wireless N300 Indoor Access Point​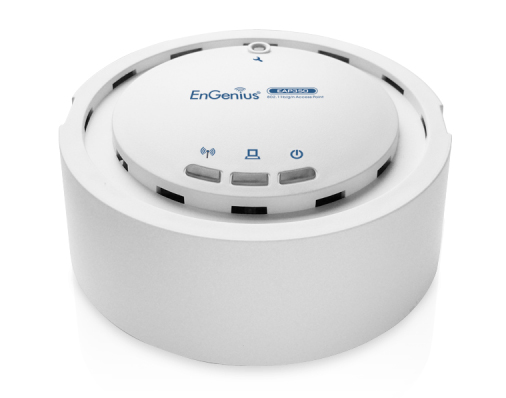 Sorry, this product is no longer available, please contact us for a replacement.
Overview: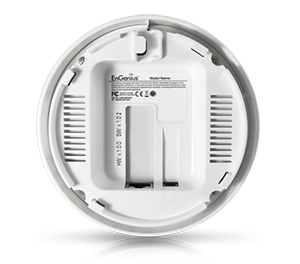 The EnGenius EAP350 is a 2.4GHz Wireless-N Indoor Access Point that features 800mW transmit power for long range coverage, wireless speeds up to 300Mbps and a Gigabit port for connecting to a switch or router. It's an ideal solution for expanding an existing network and increasing bandwidth to support additional users.
This high-powered Access Point/WDS/Repeater is designed for extending networks within large or multi-story buildings or expansive, client-intensive facilities like hotels, resorts, hospitals, office buildings, universities or other multi-building campus facilities that need to offer employees, guests, staff or students access to network resources like printers, content or the Internet.
The EAP350 is designed to appear as a smoke detector and thus unobtrusively blend in with other common building infrastructure appliances. The Access Point's transmit power of 800mW (up to 29dBm) delivers longer range than ordinary access points in its class. The EAP350 can be configured to operate in several different modes – as a Wireless-N Access Point, a WDS Access Point, or Repeater. It operates in the 2.4GHz frequency spectrum supporting the 802.11b/g/n standards.
The EAP350's robust transmit power, enhanced receive sensitivity and its MIMO (Multiple In/Multiple Out) antenna array extends wireless coverage and enhances connectivity to client devices even in areas where connections have been previously challenging or non-existent. This capability also helps to reduce the number of Access Points needed to deploy over large properties and helps to eliminate the need for roaming clients to constantly re-associate to different APs in the building or throughout the property.
The EAP's Gigabit Ethernet (10/100/1000) port offers greater bandwidth capacity and faster data transfers and is ideal for accommodating users on the network who are engaged in HD video streaming or online gaming. For deployments on ceilings or in crawlspaces where power outlets may be scarce, the EAP350 is also PoE (Power-over-Ethernet) capable when used with a PoE injector, like the 802.3af compliant EnGenius EPE5818Gaf.
The EAP350 also features industry standard wireless network encryption settings, like WEP, and WPA/WPA2, to protect the network from unauthorized access. For small-to-medium-sized office or larger corporate deployments the EAP350 also can be configured with MAC address filtering so only known and MAC address recognized client devices can access the network and unauthorized client devices can be isolated
Product Features:
High-power, Long-range Wireless-N
Up to 29dBm RF Tx power provides greater signal coverage compared to other competitive offerings
Wireless-N up to 6x Speed over Legacy 11G Networks
The 11n standard and MIMO deliver up to 300Mpbs throughput over wireless for greater overall connectivity
Gigabit Ethernet LAN Interface
Up to 10x faster data transfer than Fast Ethernet. Ideal for bandwidth-intensive applications like online gaming, VoIP, video and other multimedia streaming
SSID to VLAN Mapping
Supports 802.1q mapping of SSIDs and up to four VLANs
802.3af PoE Compliant
Supports Power-over-Ethernet (IEEE 802.3af) and enables deployment in ceilings and other areas where power outlets may not be available
Integrated Antenna
Internal 5dBi antenna with optimized configuration and RF performance
Specifications:
EnGenius EAP350 Specifications
Standards
IEEE802.11b/g/n on 2.4 GHz
IEEE802.3at/af
Memory Capacity
Memory: 32 MB
Flash Memory 8 MB
Antenna
Internal Omni-Directional Antennas
5 dBi on 2.4 GHz
Physical Interface
1 x 10/100/1000 Gigabit Ethernet Port
1 x Reset Button
1 x Power Connector
Physical Security
Kensington Security Slot
LED Indicator
1 x Power
1 x WLAN (Wireless Connection)
2.4 GHz
1 x LAN
Power Source
External Power Adapter
DC IN, 12V/2A
IEEE 802.3at Compliant Source
Mounting
Ceiling Mount
Wall Mount
Wireless & Radio Specifications
Operating Frequency
2.4GHz
Operation Modes
Access Point
Frequency Radio
2.4GHz: 2400MHz ~ 2835MHz
Transmit Power
Up to 29 dBm on 2.4 GHz
Max transmit power is limited by regulatory power
Radio Chains/Spatial Streams
2x2:2
Supported Data Rates (Mbps)
2.4 GHz: Max 300
802.11b: 1, 2, 5.5, 11
802.11g: 6, 9, 12, 18, 24, 36, 48, 54
802.11n: 6.5 to 300 (MCS0 to MCS15)
Supported Radio Technology
802.11b: Direct-Sequence Spread-Spectrum (DSSS)
802.11a/g/n: Orthogonal Frequency-Division Multiplexing (OFDM)
Channelization
802.11n with 20/40 MHZ channel width
802.11a/b/g with 20 MHZ channel width
Supported Modulation
802.11b: BPSK, QPSK, CCK
802.a/g/n: BPSK, QPSK, 16-QAM, 64-QAM
Management
Multiple BSSID
Supports up to 16 SSIDs, 8 SSIDs per radio
VLAN Tagging
Supports 802.1q SSID-to-VLAN Tagging
VLAN Pass-through
QoS
WMM
SNMP
v1, v2c, v3
MIB
I/II, Private MIB
Management Features
Deployment Options
Standalone (Individually Managed)
Configuration
Web Interface (HTTP)
CLI (Telnet)
Control Features
Auto Reboot
Firmware Upgrade: Web interface or CLI (FTP/HTTP)
Email Alert
Syslog Notification
Backup / Restore Settings
Security
WPA/WPA2 Enterprise
Hide SSID in beacons
MAC Address Filtering
Https Support
L2 Isolation
Environmental & Physical
Temperature Range
Operating: 32°F to 104°F (0°C to 40°C)
Storage: -4°F to 140°F (-20°C to 60 °C)
Humidity (non-condensing)
Operating: (90% or less
Storage: 90% or less
Device Dimensions & Weights
Device
Weight: .062 lbs.
Diameter: 4.73"
Height: 1.197"
Certifications
FCC
CE
Warranty
1 Year
Product Comparison:
Model
EAP1750H
EAP1200H
EAP900H
EAP600
EAP350
EAP300
Frequency
802.11 a/b/g/n/ac
802.11 a/b/g/n/ac
802.11 a/b/g/n
802.11 a/b/g/n
802.11 b/g/n
802.11 b/g/n
Maximum Data Speed
450 + 1300Mbps
300 + 867Mbps
450 + 450Mbps
300 + 300Mbps
300Mbps
300Mbps
LAN Interface
10/100/1000
10/100/1000
10/100/1000
10/100/1000
10/100/1000
10/100
Encryption
WPA2 WPA WEP
WPA2 WPA WEP
WPA2 WPA WEP
WPA2 WPA WEP
WPA2 WPA WEP
WPA2 WPA WEP
SDRAM
128 MB
128 MB
128 MB
64 MB
32 MB
32 MB
FlashMemory
16 MB
16 MB
16 MB
16 MB
4 MB
4 MB
RF Power (dBm)
2.4 GHz: 28 dBm
5 GHz: 28 dBm
2.4 GHz: 26 dBm
5 GHz: 26 dBm
2.4 GHz: 28 dBm
5 GHz: 28 dBm
2.4 GHz: 29 dBm
5 GHz: 26 dBm
29 dBm
29 dBm
Receive Sensitivity
≤-94 dBm
≤-94 dBm
≤-94 dBm
≤-94 dBm
≤-94 dBm
≤-92 dBm
Antenna
6 x 5 dBi Sectorized 3D
6 x 5 dBi Sectorized 3D
6 x 5 dBi Sectorized 3D
4 x 5 dBi Embedded
2 x 5 dBi Embedded
2 x 5 dBi Embedded
Transmit Power (mW)
630mW/630 mW
400mW/400mW
630mW/630mW
800mW/400mW
800mW
800mW
Operation Modes
Access Point, WDS AP, WDS Bridge
Access Point, WDS AP, WDS Bridge
Access Point, WDS AP, WDS Bridge
Access Point, WDS AP, WDS Bridge Repeater
Access Point, WDS AP, WDS Bridge Repeater
Access Point, WDS AP, WDS Bridge Repeater
Number of SSID
16 (8 per radio)
16 (8 per radio)
16 (8 per radio)
16 (8 per radio
8
4
802.1q zVLAN
QoS
AP Management Software (EZC)
PoE
802.3at
802.3at
802.3at
802.3at/af
802.3af
802.3af
User Support
Up to 50 on each radio
Up to 50 on each radio
Up to 50 on each radio
Up to 50 on each radio
Up to 50
Up to 50
Pricing Notes:
Pricing and product availability subject to change without notice.