EnGenius ENS1750

Dual Band Wireless AC1750 Outdoor Access Point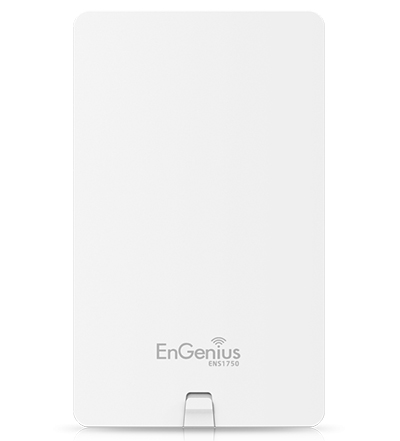 EnGenius Outdoor Access Points / Bridges
EnGenius ENS1750
EnGenius ENS1750 IEEE 802.11ac 1.71 Gbps Wireless Access Point
#ENS1750
Our Price: $210.00
More pricing below, click here!
Overview:
The ENS1750 supports increased user capacities in outdoor areas such as patio cafes and backyard entertainment spaces with fast, dual-band 11ac speeds to 1,300 Mbps on 5 GHz and 450 Mbps on the 2.4 GHz band. Band Steering shifts dual-band-capable clients to the less-congested 5 GHz band, optimizing bandwidth.
Extend your wireless coverage to the outdoors with the high-powered ENS1750, an 802.11a/b/g/n/ac 3x3 long-range Dual Band Wireless AC1750 Outdoor Access Point with speeds up to 450 Mbps on the 2.4 GHz and 1300 Mbps on the 5 GHz frequency bands that functions as a stand-alone Access Point or as part of an EnGenius Electron Series Solution of mix-and-match business-class networking products. Configurable in a number of operation modes, this robust outdoor Access Point can support a wide variety of applications, making it ideal for small-to-medium sized companies that wish to provide outdoor access to the company network for their employees or to provide network and/or Internet connectivity via a company's existing broadband connection.
Operating on both the 2.4 GHz and 5 GHz frequency bands and supporting 802.11a/b/g/n/ac standards, the ENS1750 features wireless speeds up to 450 Mbps on the 2.4 GHz and 1300 Mbps on the 5 GHz frequency bands and a Gigabit port for connecting to 802.3at-capable PoE Switches. The ENS1750 is built with a higher signal strength and sensitivity than other Access Points in its class allowing for fewer access points required in a deployment. These specifications assist in reducing dead zones in a deployed network. As the ENS1750 is designed to be mounted in high locations where power outlets may be scarce, it also supports PoE (Power-over-Ethernet) IEEE 802.3at with the included PoE injector or 802.3at-capable PoE Switches, drawing up to 22 Watts of power.
Product Highlights
IP55-Rated Weatherproof Housing Withstands Harsh Environments
High 29 dBm Transmit Power Ensures Long-Range Connections
Far-Reaching Internal High-Gain 5 dBi Antennas on Each Band
PoE+ Primary Gig-Port & Secondary Pass-Through Port Offer Deployment Flexibility
Features & Benefits:
Key Features
IEEE 802.11 ac/a/b/g/n dual concurrent architecture
Up to 450Mbps (2.4GHz) + 1300Mbps (5GHz)
Built high-gain antennas for low-profile design
Comprehensive IP55 waterproof rated
Compliant with IEEE 802.3at PoE input
AP/WDS multi-modes
Intuitive configuration via the EZ Controller or Web GUI to manage the AP/Client traffic
SNMP V1/ V2c/V3, MIB I/II supported
WEP/WPA/WPA2 wireless encryption
Spectrum Utilization (Band Steering)
Seamless stream service (Fast Roaming)
Manage and monitor by the AP, SSID
Improves and Optimizes Wireless Traffic with Band Steering
Automatically detects Dual Band clients and moves them from the 2.4 GHz band to the 5 GHz band. This allows applications such as video streaming to flow more easily and helps to eliminate traffic congestion on the 2.4 GHz band.
Flexible Deployment Scenarios
Choose one of two (2) modes available to the ENS1750 depending on user needs: Access Point or WDS (AP and Bridge).
Simplified AP Monitoring and Management
For easier monitoring and maintenance after deployment on rooftops and other hard to reach places, users can monitor the Access Point remotely with SNMP-based EZ Controller wireless Access Point software for Windows, Mac OSX, and Linux (available online as a free download).
Combat the Elements with IP55-Rated Waterproof Housing
Designed to withstand harsh environmental conditions via its waterproof IP55-Rated housing.
SSID-to-VLAN Tagging
Can be configured to broadcast up to sixteen (16) SSIDs (eight (8) SSIDs per band). Each SSID can be tagged to a specified company network VLAN for different user access based on established access rights.
EnGenius Outdoor Access Point delivers the intelligent connection for diversity of multimedia application under harsh environment.
ENS1750 is engineered with dual-band concurrent architecture which offers the bandwidth up to 1300Mbps on the 5GHz band and 450Mbps on the 2.4GHz band. With the IP55-rated waterproof enclosure and the flexible mounting capability, the product is able to be applied under challenging environments.
Cutting-edge Solutions
Each radio of the ENS1750 is built the higher strength and sensitivity; the specification will assist to reduce dead in your deployed WLAN and boost received signal quality on both ends of AP and wireless client devices. ENS1750 offers multiple SSIDs (up to 16 sets) and each SSID can be configured its bandwidth and WLAN security settings, enabling various applications running over WLAN with different levels of security strength and bandwidth limit. ENS1750 also provides the advanced wireless features including the fast roaming and band steering for achieving seamless connection and intelligent connection to optimize the signal quality.
Intelligent Management
Creating for nowadays networking demands, EnGenius had developed the multiple functions for great coverage, stable performance and easy-to-maintain management tools to ensure the best users' experience for IT manager, MIS administrators and etc. ENS1750 provides wide-range of authentication and encryption standards that including WEP, WPA, WPA2, WKIP/AES and IEEE 802.1X to enforce the security robustness, as well as to manage it via https with SSL encryption or SSH encryption.
Comprehensive Application
To enhance the spectrum usage, ENS1750 has enclosure the band steering technology, enabling 5GHz-capable clients to associate with its 5GHz radio and offloading air utilization in 2.4GHz band. Regarding users' mobility, PMKSA caching will nenable fast roaming upon handoff so ramaining 4-way handshake can complete key exchange within association process in educed time interval. With intelligent wireless mesh management from EWS switch, mesh connection can extend WLAN coverage great; coupling with client limit and fast handover features. ENS1750 can assure scarce wireless resources and optimize to deploy environment.
802.3at compliant PoE for Alternative Power Sourcing
ENS1750 can be powered by enclosed PoE injector or off-the-shelf 802.3at-compliant PoE switches, solving the common power sourcing issue in the field where devices are usually placed at outdoor environment.
Specifications: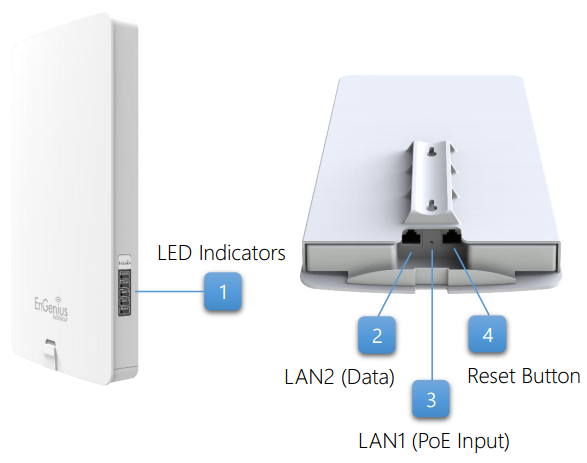 EnGenius ENS1750 Specifications
Standards
IEEE 802.11b/g/n on 2.4 GHz
IEEE 802.11a/n/ac on 5 GHz
IEEE 802.3at
IEEE 802.1r
IEEE 802.1k
IEEE 802.11x
Memory Capacity
Memory: 128 MB
Flash Memory 16 MB
Antenna
Internal Omni-Directional Antennas
5 dBi on 2.4 GHz & 5 GHz
Physical Interface
2 x 10/100/1000 Gigabit Ethernet Ports
- LAN1: Supports 802.3at PoE Input
- LAN2: Data Pass Through
1 x Reset Button
1 x Power Connector
LED Indicators
1 x Power
WLAN (Wireless Connection)
2.4 GHz
5 GHz
2 x LAN
Power Source
External Power Adapter on PoE injector
DC IN, 48 V/0.8A
IEEE 802.3at Compliant Source
Active Ethernet (PoE)
Ingress Protection Marking
IP55-Rated Enclosure
Mounting
Wall Mount
Pole Mount
Wireless & Radio Specifications
Operating Frequency
Dual-Radio Concurrent 2.4GHz & 5GHz
Operation Modes
Access Point
Frequency Radio
2.4GHz: 2400MHz ~ 2835MHz
5GHz: 5180MHz ~ 5240MHz, 5260 ~ 5320MHz, 5500MHz ~ 5700MHz, 5745MHz ~ 5825MHz
Transmit Power
Up to 29 dBi on 2.4 GHz
Up to 27 dBi on 5 GHz
Max transmit power is limited by regulatory power
Radio Chains/Spatial Streams
3x3:3
Supported Data Rates (Mbps)
2.4 GHz: Max 450
5 GHz: Max 1300
802.11b: 1, 2, 5.5, 11
802.11g: 6, 9, 12, 18, 24, 36, 48, 54
802.11n: 6.5 to 450 (MCS0 to MCS23)
802.11ac: 6.5 to 1300 (MCS0 to MCS9, NSS=1 ~3)
Supported Radio Technology
802.11b: Direct-Sequence Spread-Spectrum (DSSS)
802.11a/g/n/ac: Orthogonal frequency-division Multiplexing (OFDM)
Channelization
802.11ac with 20/40/80 MHz channel width
802.11n with 20/40 MHz channel width
802.11a/b/g with 20 MHz channel width
Supported Modulation
802.11b: BPSK, QPSK, CCK
802.11a/g/n: BPSK, QPSK, 16-QAM, 64-QAM
802.11ac: BPSK, QPSK, 16-QAM, 64-QAM, 256-QAM
AP Radio Settings
Band Steering
Traffic Shaping
Fast Roaming (802.11k & 802.11r)
RSSI Threshold
AP Client Limiting
VLANs for AP - Multiple SSIDs
Secured Guest Network
Email Alert
Wi-Fi Scheduler
Traffic Shaping
Client Traffic Status
Management
Multiple BSSID
Supports up to 16 SSIDs, 8 SSIDs per radio
VLAN Tagging
Supports 802.1q SSID-to-VLAN tagging
VLAN Pass through
QoS
Compliant with IEEE 802.11e Standard
WMM
SNMP
v1, v2c, v3
MIB
I/II, Private MIB
Deployment Options
Standalone (Individually Managed)
Configuration
Web Interface (HTTP)
CLI (Telnet)
Control Features
Auto Reboot
Firmware Upgrade
Security
WPA/WPA2 Enterprise
Hide SSID in beacons
MAC Address Filtering
Https Support
SSH Support
Client Isolation
L2 Isolation
Environmental & Physical
Temperature Range
Operating: -4°F to 140°F, -20°C to 60°C
Storage: -22°F to 176°F, -30°C to 80 °C
Humidity (non-condensing)
Operating: 90% or less
Storage: 90% or less
Device Dimensions & Weights
Device
Weight: 1.89 lbs.
Width: 7.13" (181 mm)
Length: 11.97" (304 mm)
Height: 1.81" (46 mm)
Package Contents
ENS1750 11ac Outdoor AP
48 V/0.8A Power Adapter
PoE Injector
Pole Mount Ring
Mounting Screw Set
Quick Installation Guide
Certifications
FCC
CE
Warranty
1 Year
Compare:
Models:
ENS1750
ENS1200
ENS500EXT
ENS500
ENS202EXT
ENS202
Wi-Fi Standard
802.11 a/b/g/n/ac
802.11 a/b/g/n/ac
802.11 a/n
802.11 a/n
802.11 b/g/n
802.11 b/g/n
RAM
64MB
64MB
32MB
32MB
32MB
32MB
Flash
16MB
16MB
16MB
16MB
16MB
16MB
Frequency Band
2.4 GHz & 5GHz
2.4 GHz & 5GHz
5GHz
5GHz
2.4 GHz
2.4 GHz
Maximum Advertised Speed
2.4 GHz: 450Mbps
5 GHz: 1300Mbps
2.4 GHz: 300Mbps
5 GHz: 866Mbps
300Mbps
300Mbps
300Mbps
300Mbps
RF Power (dBm)
2.4 GHz: 29 dBm
2.4 GHz: 28 dBm
27 dBm
26 dBm
26 dBm
26 dBm
26 dBm
RF Power (mW)
800mW
500mW
400mW
400mW
400mW
400mW
Operation Modes
Access Point
Client Bridge
WDS Bridge/AP/ Station
Access Point
Client Bridge
WDS Bridge/AP/ Station
Access Point
Client Bridge
WDS Bridge/AP/ Station
Client Router
Access Point
Client Bridge
WDS Bridge/AP/ Station
Client Router
Access Point
Client Bridge
WDS Bridge/AP/ Station
Client Router
Access Point
Client Bridge
WDS Bridge/AP/ Station
Client Router
LAN Interface
10/100/1000 x2
10/100/1000 x2
10/100 x2
10/100 x2
10/100 x2
10/100 x2
Antenna
Built-in 5 dBi Directional
Built-in 5 dBi Directional
2x External 5 dBi Omni Directional
Built-in 10 dBi Directional
2x External 5 dBi Omni directional
Built-in 8dBi Directional
Antenna Connector Type
N/A
N/A
SMA
N/A
SMA
N/A
Encryption
WEP/WPA/WPA2
WEP/WPA/WPA2
WEP/WPA/WPA2
WEP/WPA/WPA2
WEP/WPA/WPA2
WEP/WPA/WPA2
PoE Power
48v
48v
24v
24v
24v
24v
IP Rating
65
65
65
65
65
65
Primary Application
Point 2 multipoints
Point 2 multipoints
Point 2 multipoints
Building 2 building
Point 2 multipoints
Building 2 building
Secondary Application
5GHz single radio bridge
5GHz single radio bridge
5GHz single radio bridge
High speed mid-long range P2P network
2.4GHz N300 radio bridge
High-speed CPE device
Specialty Application
Highly interferred 2.4GHz wireless traffic
Highly interferred 2.4GHz wireless traffic
Highly interferred 2.4GHz wireless traffic
Outdoor IP cam AP in congested 2.4GHz area
Small base station replacement
Outdoor video IP cam wireless client
Views:
Pricing Notes:
Pricing and product availability subject to change without notice.
EnGenius Outdoor Access Points / Bridges
EnGenius ENS1750
EnGenius ENS1750 IEEE 802.11ac 1.71 Gbps Wireless Access Point
#ENS1750
Our Price: $210.00