EnGenius ENS500

High-Powered, Long-Range 5 GHz Wireless N300 Outdoor Client Bridge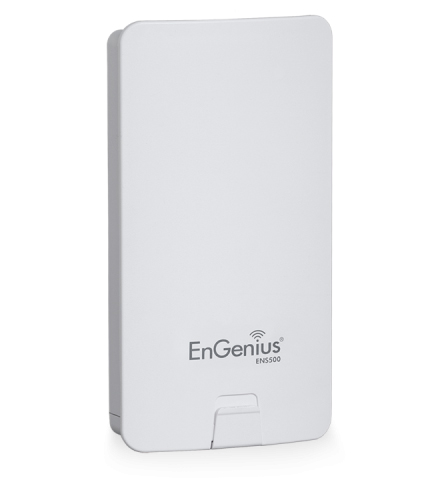 Sorry, this product is no longer available, replaced by the ENS500-AC.
Overview: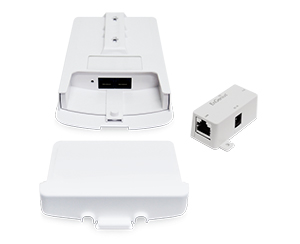 The ENS500 is a high-speed, long-range outdoor 802.11n Wireless N300 Client Bridge and Access Point that operates in the 5GHz frequency band so it avoids the congested wireless traffic from devices on the more commonly used 2.4 GHz frequency band. This makes the ENS500 an ideal solution for building-to-building wireless bridging, for stable streaming of video from connected IP security cameras in parking lots or garages back to a company network, or for sending data to outdoor digital signage.
The ENS500 is compliant with the IEEE802.11 a/n standard delivering a wireless data rate of up to 300Mbps. It features an internal directional 10 dBi MIMO (Multiple In/Multiple Out) antenna that coupled with its strong transmit power of up to 400mW makes the ENS500 a compelling performance solution for small and growing businesses at a very affordable price. The ENS500 can also be used in other operational modes including as an Access Point. When used as an Access Point it should be positioned in such a way, because of its more focused directional antenna signal array, to offer wireless network connectivity to a more defined outdoor venue rather than a more general outdoor area around it.
ENS500 also features a robust security feature set that includes support for WPA/WPA2 Personal and Enterprise encryption, 802.1x RADIUS authentication, hidden SSID and MAC address filtering.
The ENS500 also features an IP65 rated weatherproof housing that ensures continued operation in harsh outdoor environments or in climates of extreme cold, heat or continuous moisture.
Product Highlights
High 26 dBm Transmit Power Extends Wi-Fi to the Yard or Guest House
Directional 10 dBi MIMO Antennas Enable Long-Range Outdoor Coverage
Weatherproof IP55-Rated Housing Resists Harsh Climates
PoE Extends Power to Unwired Areas; Connect IP Camera or AP via 2nd Port
Features & Benefits:
High 400mW Transmit Power Delivers Long-Range Coverage
Ensures robust signal to achieve longer range. Offers superior wireless network coverage over other brands. Ideal for Point-to-Point wireless bridging to other buildings.
Up to 300 Mbps Wireless Speed and Backward Compatible to 802.11a
Up to 300 Mbps when connected to another 5 GHz Wireless N300 device. Complies with IEEE802.11a/n standards.
Built-in Directional Antenna Maximizes Wireless Connectivity
Internal 10 dBi directional antenna with dual polarity design with a focused beam array for targeting other outdoor client bridges or providing wireless network connectivity to a specific outdoor area in Access Point mode.
SSID-to-VLAN Tagging
Can be configured to broadcast up to four (4) SSIDs. Each SSID can be tagged to a specified company network VLAN for different user access based on established access rights.
Specifications: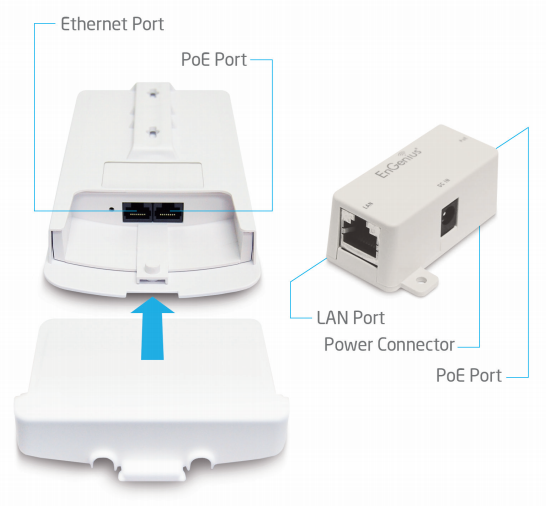 EnGenius ENS500 Specifications
Standards
IEEE 802.11a/n on 5 GHz
Memory Capacity
Memory: 64 MB
Flash Memory 16 MB
Antenna
Internal Directional Antennas
10 dBi on 2.4 GHz
Physical Interface
2 x 10/100 Fast Ethernet Ports
1 x Reset Button
LED Indicators
1 x Power
WLAN (Wireless Connection)
2.4 GHz
2 x LAN
Power Source
PoE injector (EPA2406GP)
100V~240V AC, 50-60Hz
0.4A @ 120V AC
Surge Protection: 1KV
ESD Protection
Contact: 4KV
Air: 8 KV
Ingress Protection Marking
IP55-Rated Enclosure
Mounting
Wall Mount
Pole Mount
Wireless & Radio Specifications
Operating Frequency
5GHz
Operation Modes
Access Point
Client Bridge
Client Router
WDS: AP, Bridge
Frequency Radio
5GHz: 5180MHz ~ 5240MHz, 5260 ~ 5320MHz, 5500MHz ~ 5700MHz, 5745MHz ~ 5825MHz
Transmit Power
Up to 26 dBm on 5 GHz
Max transmit power is limited by regulatory power
Radio Chains/Spatial Streams
2x2:2
Supported Data Rates (Mbps)
5 GHz: Max 300
802.11a: 6, 9, 12, 18, 24, 36, 48, 54
802.11n: 6.5 to 300 (MCS0 to MCS15)
Supported Radio Technology
802.11a/n: Orthogonal frequency-division Multiplexing (OFDM)
Channelization
802.11n with 5/10/20/40 MHz channel width
802.11b/g with 5/10/20 MHz channel width
Supported Modulation
802.11a/n: BPSK, QPSK, 16-QAM, 64-QAM
AP Radio Settings
AP Client Limiting
VLANs for AP - Multiple SSIDs
Wi-Fi Scheduler
Traffic Shaping
Client Traffic Status
Management
Multiple BSSID
Supports up to 4 SSIDs
VLAN Tagging
Supports 802.1q SSID-to-VLAN tagging
VLAN Pass through
QoS
Compliant with IEEE 802.11e Standard
WMM
SNMP
v1, v2c, v3
MIB
I/II, Private MIB
Deployment Options
Standalone (Individually Managed)
Configuration
Web Interface (HTTP)
CLI (Telnet)
Control Features
Auto Reboot
Firmware Upgrade
Security
WPA/WPA2 Enterprise
Hide SSID in beacons
MAC Address Filtering
Https Support
Environmental & Physical
Temperature Range
Operating: -4°F to 140°F, -20°C to 60°C
Storage: -22°F to 176°F, -30°C to 80 °C
Humidity (non-condensing)
Operating: 90% or less
Storage: 90% or less
Device Dimensions & Weights
Device
Weight: 0.66 lbs.
Width: 3.93" (100 mm)
Length: 7.08" (186 mm)
Height: 1.14" (29 mm)
Package Contents
ENS500 Outdoor AP
PoE Injector (EPA2406GP)
Pole Mount Ring
Mounting Screw Set
Quick Installation Guide
Certifications
FCC
CE
Warranty
1 Year
Compare:
Models:
ENS1750
ENS1200
ENS500EXT
ENS500
ENS202EXT
ENS202
Wi-Fi Standard
802.11 a/b/g/n/ac
802.11 a/b/g/n/ac
802.11 a/n
802.11 a/n
802.11 b/g/n
802.11 b/g/n
RAM
64MB
64MB
32MB
32MB
32MB
32MB
Flash
16MB
16MB
16MB
16MB
16MB
16MB
Frequency Band
2.4 GHz & 5GHz
2.4 GHz & 5GHz
5GHz
5GHz
2.4 GHz
2.4 GHz
Maximum Advertised Speed
2.4 GHz: 450Mbps
5 GHz: 1300Mbps
2.4 GHz: 300Mbps
5 GHz: 866Mbps
300Mbps
300Mbps
300Mbps
300Mbps
RF Power (dBm)
2.4 GHz: 29 dBm
2.4 GHz: 28 dBm
27 dBm
26 dBm
26 dBm
26 dBm
26 dBm
RF Power (mW)
800mW
500mW
400mW
400mW
400mW
400mW
Operation Modes
Access Point
Client Bridge
WDS Bridge/AP/ Station
Access Point
Client Bridge
WDS Bridge/AP/ Station
Access Point
Client Bridge
WDS Bridge/AP/ Station
Client Router
Access Point
Client Bridge
WDS Bridge/AP/ Station
Client Router
Access Point
Client Bridge
WDS Bridge/AP/ Station
Client Router
Access Point
Client Bridge
WDS Bridge/AP/ Station
Client Router
LAN Interface
10/100/1000 x2
10/100/1000 x2
10/100 x2
10/100 x2
10/100 x2
10/100 x2
Antenna
Built-in 5 dBi Directional
Built-in 5 dBi Directional
2x External 5 dBi Omni Directional
Built-in 10 dBi Directional
2x External 5 dBi Omni directional
Built-in 8dBi Directional
Antenna Connector Type
N/A
N/A
SMA
N/A
SMA
N/A
Encryption
WEP/WPA/WPA2
WEP/WPA/WPA2
WEP/WPA/WPA2
WEP/WPA/WPA2
WEP/WPA/WPA2
WEP/WPA/WPA2
PoE Power
48v
48v
24v
24v
24v
24v
IP Rating
65
65
65
65
65
65
Primary Application
Point 2 multipoints
Point 2 multipoints
Point 2 multipoints
Building 2 building
Point 2 multipoints
Building 2 building
Secondary Application
5GHz single radio bridge
5GHz single radio bridge
5GHz single radio bridge
High speed mid-long range P2P network
2.4GHz N300 radio bridge
High-speed CPE device
Specialty Application
Highly interferred 2.4GHz wireless traffic
Highly interferred 2.4GHz wireless traffic
Highly interferred 2.4GHz wireless traffic
Outdoor IP cam AP in congested 2.4GHz area
Small base station replacement
Outdoor video IP cam wireless client