EnGenius ESR530

AC1300 Dual-Band Whole-Home Smart Wi-Fi System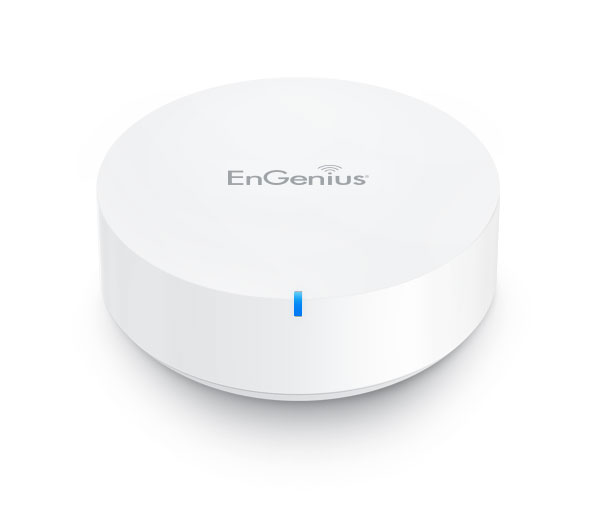 EnGenius Outdoor Access Points / Bridges
EnGenius ESR530
EnGenius ESR530
#ESR530
Our Price: $69.99
EnGenius ESR530 2-Pack
#ESR530-2PACK
Our Price: $129.99
More pricing below, click here!
Overview:
The EnGenius EnMesh ESR530 AC1300 Dual-Band Whole-Home Smart Wi-Fi System is a stylish, high-performance smart mesh router that offers fast, reliable wireless connectivity for all smart home devices, eliminating dead spots. Simplify Wi-Fi setup, control and manage via the EnMesh app and create personal cloud storage via the EnFile app via the external USB port.
Achieve Wall-to-Wall Wireless Coverage that Eliminates Dead Spots
Smart Mesh Technology Utilizes Smart Sensors to Automatically Optimize Connections
High Performing, 802.11ac Wave 2 Speeds Support Buffer-Free Video & Audio in Every Room
Simplified Mesh Wi-Fi: No Wires to Run & No Software to Setup
Quick, Step-by-Step Setup via EnMesh™ Mobile App
Full Network Insight, Control & Troubleshooting Features
Specifications
Technical Specifications
Standards
IEEE 802.11b/g/n on 2.4 GHz
IEEE 802.11a/n/ac Wave 2 on 5 GHz
Antenna
Integrated Omni-Directional Antennas
Physical Interface
2 x 10/100/1000 Mbps Ethernet Ports (1 WAN, 1 LAN)
1 x USB 2.0 Port
1 x DC Jack
1 x Reset Button
LED Indicators
1 x 3 Color-Status LED
- White: Mesh & Internet Connection Status
- Red: No Internet Connection or No Mesh Connection
- Orange: Mesh Connection Signal is Weak
Power Source
Power Adapter: 12V/1A
Wireless & Radio Specifications
Operating Frequency
Dual-Radio Concurrent 2.4 GHz & 5 GHz
Operation Modes
Router Mode
Bridge Mode
Max. Nodes
8
Wireless Initial Setup
EnMesh App Required
Frequency Radio
2.4 GHz: 2400 MHz
5 GHz: 5150 MHz
Transmit Power
Up to 20 dBm on 2.4 GHz
Up to 19 dBm on 5 GHz
Radio Chains/Spatial Stream
2x2:2 MIMO
Max. Speeds
300 Mbps on 2.4 GHz
867 Mbps on 5 GHz
Supported Data Rates (Mbps):
2.4 GHz: Max 400
5 GHz: Max 867
802.11b: 1, 2, 5.5, 11
802.11a/g: 6, 9, 12, 18, 36, 48, 54
802.11n: 6.5 to 300 Mbps (MCS0 to MCS15)
802.11ac: 6.5 to 867 Mbps (MCS0 to MCS9, NSS = 1 to 2)
Supported Radio Technologies
802.11b: Direct-Sequence Spread Spectrum (DSSS)
802.11a/g/n/ac: Orthogonal Frequency-Division Multiplexing (OFDM)
Channelization
802.11ac Supports Very High Throughput (VHT)—VHT 20/40/80 MHz
802.11n Supports High Throughput (HT)—HT 20/40 MHz
802.11a/b/g Supports High Throughput (HT)—20 MHz
Supported Modulation
802.11b: BPSK, QPSK, CCK
802.11a/g/n: BPSK, QPSK, 16-QAM, 64-QAM
802.11ac: BPSK, QPSK, 16-QAM, 64-QAM, 256-QAM
Features
Auto Channel Selection
Auto Transmit Power
Wireless STA (Client) Connected List
Guest Network
Fast Roaming (802.11k & 802.11r)
AirPrint® Server Support
Restore Factory Settings
Auto Reboot
Internet Speed Test
Mesh Connection Status
USB Features: SAMBA
UPnP Support
System Recovery
Manual/Auto Firmware Update
Band Steering
UID/DDNS Remote Control
Network Diagnostic < Auto Firmware Update
Parental Controls
Wi-Fi Access Scheduler
Website & Keyword Filter
- Social Media
- Search Engine
- Video Media
- Custom URL
QoS (Quality of Service)
Wireless Security
WPA2-PSK (AES/TKIP)
WPA-PSK (AES/TKIP)
WEP
SSID Password
Network Services
DHCP
Static IP
PPPoE
Mobile App
EnMesh (easy setup, monitoring and management)
EnFile (personal cloud storage and file management)
Available for iPhone® & Android™
Environmental & Physical
Temperature Range
Operating: 32 ºF~104 ºF (0 ºC~40 ºC)
Storage: -4 ºF~140 ºF (-20 ºC~60 ºC)
Humidity (non-condensing)
Operating: 90% or less
Storage: 95% or less
Device Dimensions & Weights
ESR530 Device
Weight: .43lbs lbs. (195g)
Width: 5" (127mm)
Length: 5" (127mm)
Height: 2.2" (57 mm)
Packaging
Weight: .93 lbs. (420 g)
Width: 5.8" (33.8 mm)
Length: 5.8" (47.3 mm)
Height: 4.4" (18.8 mm)
Package Contents
1 x ESR530 Dual-Band AC1300 Mesh Router
1 x Power Adapter
1 x Quick Start Guide
1 x RJ-45 Ethernet Cable
1 – Screw Pack
Certifications
FCC
CE
Warranty
1 Year
Pricing Notes:
Pricing and product availability subject to change without notice.
EnGenius Outdoor Access Points / Bridges
EnGenius ESR530
EnGenius ESR530
#ESR530
Our Price: $69.99
EnGenius ESR530 2-Pack
#ESR530-2PACK
Our Price: $129.99