EnGenius ECB1200

802.11ac 2x2 Dual Band High-Powered Wireless Access Point/Client Bridge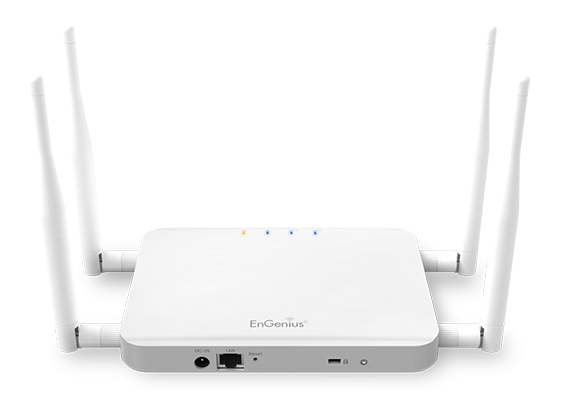 Sorry, this product is no longer available, Please, contact us for a replacement product!
Overview:
The EnGenius ECB1200 is an 802.11ac 2x2:2 Dual Band Wireless Access Point and Client Bridge that is ideal for use in a wide array of settings including multi-floor corporate offices, hotels, schools and universities, small-to-mid-sized companies and large homes.
The ECB1200 features Dual-Band, concurrent operations with Band Steering and Quantum Beam technology for highly optimized user capacity per band, and the latest 802.11ac speeds delivering up to 867 Mbps on the 5 GHz band and up to 300 Mbps on the 2.4 GHz band. Combining high-transmit power, enhanced receive sensitivity and 4 external high-gain MIMO antennas, the ECB1200 supports long-range wireless connectivity ensuring seamless application delivery to a large number of clients simultaneously.
An expert in wireless communications and RF technology, EnGenius delivers feature-rich, long-range wireless communications technology for voice and data. The versatility and performance of the company's solutions lower total cost of ownership, increase productivity and maximize return on investment.
Key Features and Benefits:
802.11ac wireless speeds up to 867 Mbps on 5 GHz band
802.11n wireless speeds up to 300 Mbps on 2.4 GHz band
Up to 26 dBm transmit power per band penetrates floors, ceilings and walls for long-range connectivity
Dual-Band-capable for expanded user capacity and support for higher bandwidth applications
Four (4) 5 dBi high-gain detachable Omni-Directional antennas; two (2) on 2.4 GHz/two (2) on 5 GHz
Band Steering detects Dual-Band clients, shifting them to 5 GHz, optimizing data flow
Power-over-Ethernet (PoE)-compatible for flexible power options with PoE 802.3at capable Switches or the EnGenius Gigabit PoE Injector EPE-4818G
Fast Roaming configurable when used with a RADIUS server for seamless application delivery without delays
Wireless Encryption (64/128/152 bit)
Secured Guest Network option keeps primary network secure, limiting Internet resources
SSID-to-VLAN Tagging – tag and assign different user access rights on the company VLAN
Supports IPv4/IPv6
Designed for use in: multi-floor corporate offices, hotels, schools, universities, small-to-mid-sized companies and large homes
Features & Benefits:
Accelerated Dual-Band Performance
The EnGenius ECB1200's accelerated speed and performance for users with 802.11ac laptops and other devices ensures smooth, rapid wireless HD video streaming and large file transfers over long distances. With Dual-Band support, this 802.11ac 2x2:2 Indoor Access Point and Client Bridge features data speeds of up to 867 Mbps on the 5 GHz band, when associated with AC client devices, and up to 300 Mbps on the 2.4 GHz band. Its Dual-Band feature incorporates high-capacity performance without bottlenecks for legacy and newer devices to a large number of clients simultaneously.
Long-Range Connectivity with External Detachable Antennas
With powerful, long-range connectivity capacity, the ECB1200's external MIMO antenna array is comprised of four (4) detachable 5 dBi high-gain antennas; two (2) for the 2.4 GHz radio and two (2) for the 5 GHz radio, transmitting up to 26 dBm of power per band. This combination of hightransmit power, enhanced receive sensitivity and long-range high gain external antennas results in wide-reaching connectivity to client devices, and in some venues, drastically minimizes the number of APs needed for deployment compared to other solutions.
Customize Wireless Access for Different Departments or Workgroups
Create and configure up to eight (8) separate wireless networks per frequency band for a total of 16 SSIDs. Utilizing SSID-to-VLAN tagging (802.11q) can help increase security, network reliability and conserve bandwidth by limiting who has access to connect.
Secured Guest Network Option
Establish and secure Guest Networks and control access to company computers and servers. Limit Internet resources available to visiting customers, clients and vendors and ensure your company network and servers are kept secure from sophisticated Trojans and malware that can use guest's mobile devices to attack your network.
Fast Roaming with Enhanced Security
When used with a RADIUS server, the ECB1200's Fast Roaming feature supports secure authentication, distributing and caching a designated WPA/ WPA2-Enterprise encryption key to neighboring ECB Access Points. Together with the Fast Handover feature, the AP automatically initiates a secure client transfer from one ECB Access Point to the next nearest AP with a stronger signal, keeping clients continuously and seamlessly connected to the network.
Simplified AP Monitoring
For simplified Wireless Access Point monitoring and sequential firmware upgrades after deployment, IT managers can download the free the SNMPbased EZ Controller software for Windows, Mac OSX and Linux from the EnGenius web site. Since the ECB1200 requires no software, set up and configuration is easily completed through its web User Interface or the optional EZ Controller software.
Flexible Mode Configurations per Frequency Band
Easily configure the ECB1200 as an Access Point, Client Bridge or WDS (AP, Station & Bridge) based on user needs in each frequency band. When set to Client Bridge mode, Ethernet-enabled devices, such as printers, copiers or storage can join an existing wireless network when connected via a Switch or directly to the wired device, making applications like wireless printing and archiving from laptops and tablets even easier.
Specifications: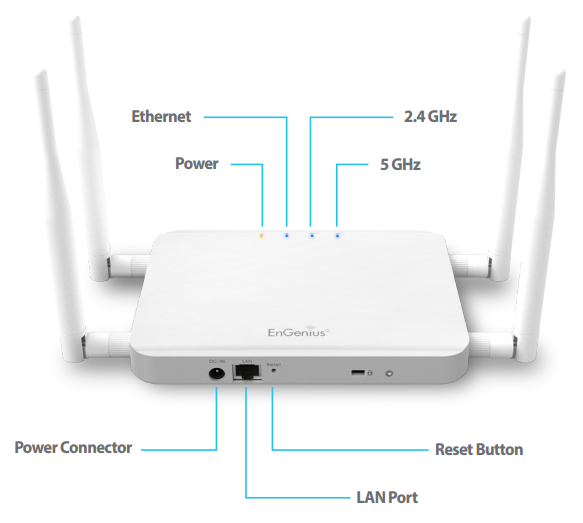 EnGenius ECB1200 Dual Band Access Point Specifications
Standards
IEEE 802.11a/n/ac on 5 GHz
IEEE 802.11b/g/n on 2.4 GHz
IEEE 802.3at
Antenna
4 External Antennas
(2) Detachable 5 dBi 2.4 GHz Omni-directional Antennas
(2) Detachable 5 dBi 5 GHz Omni-directional Antennas
Physical Interface
1 x 10/100/1000 Gigabit Ethernet Port with PoE support
1 x Reset Button
1 x Power Connector
Physical Security
Kensington Security Slot
LED Indicators
1 x Power
1 x LAN 1
1 x 2.4 GHz
1 x 5 GHz
Power Source
DC Input: 12VDC/2A
PoE: Compatible with 802.3at
Memory Capacity
16 MB Flash
128 MB SDRAM
Wireless & Radio Specifications
Dual Band, Dual Concurrent Radio
Operation Modes
Access Point
Client Bridge
WDS AP
WDS Bridge
WDS Station
Transmission Power
2.4 GHz up to 26 dBm
5 GHz up to 26 dBm
Radio Chains / Spatial Streams
2 x 2: 2
Supported Data Rates (Mbps)
2.4 GHz: Max 300
5 GHz: Max 866
802.11b: 1, 2, 5.5, 11
802.11a/g: 6, 9, 12, 18, 24, 36, 48, 54
802.11n: 6.5 to 450 (MCS0 to MCS9, NSS=1 to 3)
802.11ac: 6.5 to 1,300 (MCS0 to MCS9, NSS=1 to 3)
Supported Radio Technologies
802.11b: Direct-Sequence Spread Spectrum (DSSS)
802.11a/g/n/ac: Orthogonal Frequency-Division Multiplexing (OFDM)
802.11n/ac: 2x2 MIMO with 2 streams
Channelization
802.11ac with 20/40/80 MHz channel width
802.11n with 20/40 MHz channel width
802.11a/b/g with 20 MHz channel width
Supported Modulation
802.11b: BPSK, QPSK, CCK
802.11a/g/n: BPSK, QPSK, 16-QAM, 64-QAM
802.11ac: BPSK, QPSK, 16-QAM, 64-QAM, 256-QAM
Management
Auto Channel Selection
Multiple SSID: 16 SSIDs, 8 SSIDs per Radio
BSSID
SNMP V1/V2c/V3
MIB I/II, Private MIB
VLAN Tag/VLAN Pass-through
Save Configuration as Default
Clients Statistics
Email Alert
Fast Roaming
Fast Handover
Client Limit
Real Time Status
RADIUS Accounting
Guest Network
Control
EnGenius EZ Controller
CLI Supported
Multicast Supported
Wi-Fi Scheduler
Band Steering
802.1x Supplicant (CB Mode)
Auto Reboot
Green Setting
Security
WEP Encryption (64/128/152 bit)
WPA/WPA2 Personal (WPA-PSK using TKIP or AES)
WPA/WPA2 Enterprise (WPA-PSK using TKIP)
802.1x Authenticator
Hide SSID in Beacons
Client Isolation
L2 Isolation (AP Mode)
MAC Address Filtering, Up to 50 Fields
Wireless STA (Client) Connection List
Https Support
SSH Support
QoS
Supports 802.11e/WMM/Traffic Shaping Standards
(WMM – Wireless Multimedia
Environmental & Physical
Temperature Range
Operating: 32 °F to 122 °F (0°C to 50 °C)
Storage: -4 °F to 140°F (-20 °C to 60 °C)
Humidity (non-condensing)
Operating: 90% or less
Storage: 90% or less
Dimensions & Weights
Device
Weight: 1.20 lbs. (544.31 g)
Length: 7.44" (189 mm)
Width: 5.51" (140 mm)
Height: 1.02" (26 mm)
Packaging
Weight: 2.8 lbs. (1.27 kg)
Length: 12" (304.80 mm)
Width: 3" (76.20 mm)
Height: 1" (25.40 mm)
Master Carton
Weight: 28 lbs. (12.70 kg)
Length: 19" (482.60 mm)
Width: 15.4" (391.16 mm)
Height: 13" (330.20 mm)
No. of boxes per master carton: 10 units
Package Contents
ECB1200 802.11ac 2x2 Dual Band Indoor Access Point/Client Bridge
(2) Detachable 5 dBi 2.4 GHz Omni-directional Antennas
(2) Detachable 5 dBi 5 GHz Omni-directional Antennas
RJ-45 Cable
Power Adapter (12V/2A)
Wall Mount Kit
Quick Installation Guide
Certifications
FCC
CE
IC
Warranty
1 Year
Antenna Specifications (External Antenna)
External Antenna
2.4 GHz
5 GHz
Average Antenna Gain
5.0 dBi
5.0 dBi
Polarization
Vertical
Vertical
Azimuth Beam-Width
360°
360°
Elevation Beam-Width
30°
30°
VSWR
1:2.0
1:2.0
Dimension
13(Φ)x199(L) mm
13(Φ)x199(L) mm
Product Comparison:
Model
ECB1750
ECB1200
ECB600
ECB350
ECB300
Frequency
802.11 a/b/g/n/ac
802.11 a/b/g/n/ac
802.11 a/b/g/n
802.11 b/g/n
802.11 b/g/n
Maximum Data Speed
450 + 1300Mbps
300 + 867Mbps
300 + 300Mbps
300Mbps
300Mbps
LAN Interface
10/100/1000
10/100/1000
10/100/1000
10/100/1000
10/100
Encryption
WPA2 WPA WEP
WPA2 WPA WEP
WPA2 WPA WEP
WPA2 WPA WEP
WPA2 WPA WEP
SDRAM
128 MB
128 MB
64 MB
32 MB
32 MB
FlashMemory
16 MB
16 MB
16 MB
8 MB
4 MB
RF Power (dBm)
2.4 GHz: 29 dBm
5 GHz: 29 dBm
2.4 GHz: 26 dBm
5 GHz: 26 dBm
2.4 GHz: 29 dBm
5 GHz: 26 dBm
29 dBm

29 dBm
Receive Sensitivity
≤-94 dBm
≤-94 dBm
≤-94 dBm
≤-94 dBm
≤-94 dBm
Antenna
6 x 5 dBi Omni RP-SMA Female
4 x 5 dBi Omni RP-SMA Female
4 x 5 dBi Omni RP-SMA Female
2 x 5 dBi Omni RP-SMA Female
2 x 5 dBi Omni RP-SMA Female
Transmit Power (mW)
800mW/800 mW
400mW/400mW
800mW/400mW
800mW
800mW
Operation Modes
Access Point, Client Bridge, WDS AP, WDS Station, Universal Repeater
Access Point, Client Bridge, AP Router, WDS AP, Universal Repeater
Number of SSID
16 (8 per radio)
16 (8 per radio)
16 (8 per radio)
8
8
802.1q zVLAN
QoS
AP Management Software (EZC)
PoE
802.3at
802.3at
802.3at/af
802.3af
802.3af
User Support
Up to 50 on each radio
Up to 50 on each radio
Up to 50 on each radio
Up to 32
Up to 32
Views: